Festivals & Events
The Clonakilty International Guitar Festival takes place in September annually with some of the world's greatest guitarists.
Clonakilty Waterfront Marathon runs annually on the first weekend of December
The West Cork Rally runs every St. Patrick's weekend around West Cork with Clonakilty as it's base.
Clonakilty Street Carnival takes place annually in June.
On Saturday July 1st the South of Ireland Band Championships and The Old Time Fayre will showcase the best band competition held annually Ireland combined with a unique snapshot of what Clonakilty might have looked like in the 1920's/30's. Visit www.soibandchampionships.ie
The Cork Open Backgammon Tournament takes place in O'Donovan's Hotel over the first weekend in March each year.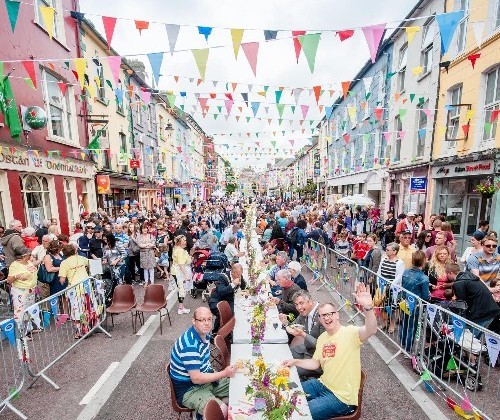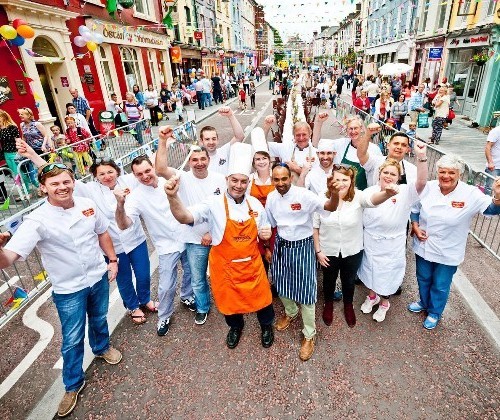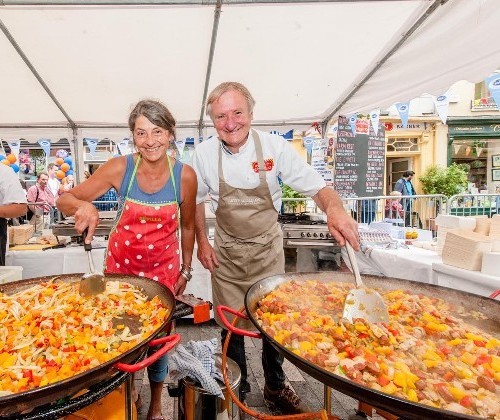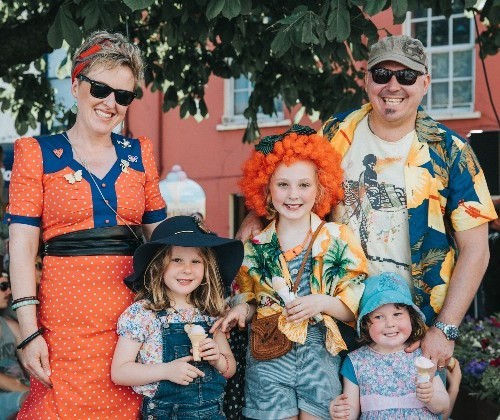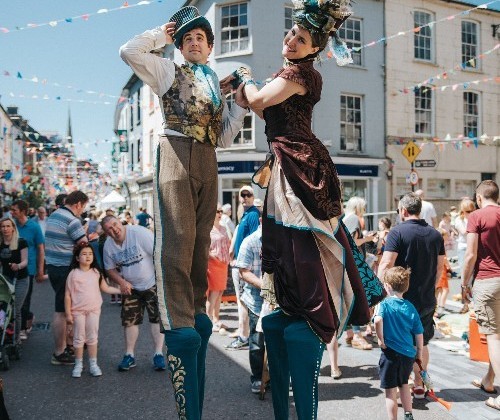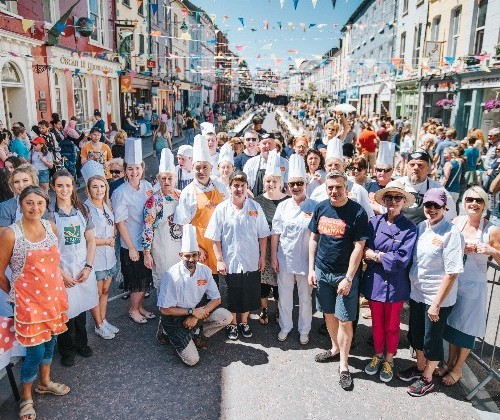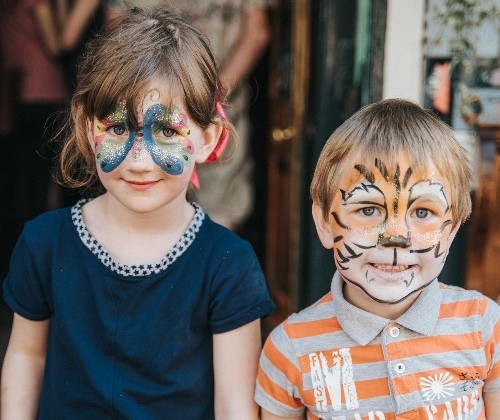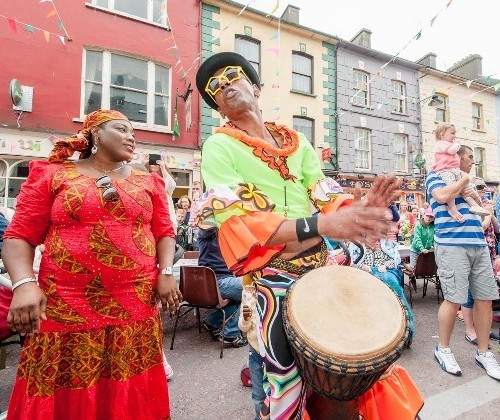 Upcoming events
Sharon Shannonthe button accordion player from Co Clare,Ireland has recorded and toured with a who's who of the Irish and Global Music Industry, including Bono, Adam Clayton, Sinead O'Connor, Jackson Browne, John Prine ,Steve Earle, The RTE Concert Orchestra, The Chieftains, The Waterboys, Willie Nelson, Nigel Kennedy, Alison Krauss and Shane MacGowan .
Her 12 studio recorded albums to date have all been very different and groundbreaking mixing traditional Irish with reggae, country, Native American, bluegrass, rap, dance, African,French Canadian.
The genre-defying star has had multi-platinum album sales and has had several number one albums, singles and DVDs in her home country. Her album Galway Girl went 4 times platinum in Ireland with the title track winning her the Meteor award two years running for the most downloaded song.
Sharon grew up in a rural community and was part of a family that all play musical instruments and traditional Irish music.
However, her career took an massive upward trajectory when in the late 80s she was asked to joined the seminal rock band The Waterboys. Her first show with that band ,to an audience of 50,000 ,was the on main stage at perhaps the most well-known music festival on earth-Glastonbury.
Her subsequent debut album was released worldwide and was to become the biggest selling record by a traditional artiste in Ireland.
She has entertained US Presidents Clinton at the White House and Obama in Dublin and Irish Presidents Robinson and MacAleese on presidential visits to Poland and Australia respectively. She recently accompanied Irish president Michael D. Higgins on his official tour of China
Among the many awards she has received including Hot Press and Meteor Awards ,She also celebrates being the youngest ever recipient of the Meteor Lifetime Achievement Award.
She received an IBAM Award in Chicago in 2015 for her 'unique contribution to irish Music'. Other recipients were Darina Allen and actor Liam Neeson.
Her music has been featured in several Hollywood movies and she also played a cameo role in the Neil Jordan movie 'Ondine'. She has worked on a stage producton of JM Synges ' The Playboy of the Western World' which was directed by Jim Sheridan.
In March 2017, Sharon released her 10th studio album Sacred Earth. A ground breaking album once again from Sharon. Produced by Justin Adams,this album mixes Irish music with African and blues and features celebrated African Musicians Abass Dodoo and Seikou Keita as well as special guests including Finbar Furey and Alyra Rose.
Sacred Earth was inspired by a visit to New Mexico in early 2015, where Sharon performed with Native American musicians Arvel Bird and Steve Rushingwind. Sharon was the first non- Native American artiste to perform at Acoma Pueblo , outside of Albuquerque.
The Indian peoples philosophy had a profound affect on Sharon and she reconnected with Justin Adams( producer and guitarist with Robert Plant) who has worked closely with many African musicians over the years, to co produce Sacred Earth.
A vegetarian for many years, Sharon recently adopted the vegan diet and is passionate about animal welfare, giving much of her spare time to this cause.Sharon is also an Ambassador to Missionvale Ireland, an agency based in South Africa which helps combat poverty and homelessness in that region.
Curator's Talk on the War of Independence
Clonakilty Distillery Gin School
An expert guide will teach them all about the Gin making process from selecting their own unique recipe using specially picked botanicals, to the actual distilling of your own bottle of Gin, using one of the gorgeous mini stills. The Gin School runs every Saturday from 6pm. The school is equipped for groups of up 12 people. Book online now via our website www.clonakiltydistillery.ie/ or phone 023 8878020.
Blending invention with tradition, new compositions with old, The Diviners are an innovative traditional music act. The diversity of the live set includes: vocals; uilleann pipes; bouzouki; whistles; flute; guitar; bodhran; shruti box; harmonica.
• acoustic performance
• free entry ('pass the hat')
• alcohol-free bar
• parking €10
• over 13's only
• gates 7pm, show 8pm, close 10pm
In their 6 years together Strange Attractor have performed in many venues across Ireland whilst playing the Country's most prestigious festivals, including Electric Picnic, Cork Jazz Festival and Other Voices. The group have toured Germany and played shows at UK festivals, such as Wilderness Festival in England. The bands last single "Ain't That Strange" was released in April 2018 and received much praise but after being on hiatus for the last year Strange Attractor are now back with a brand new sound and ready to make 2019 seriously funky!