Welcome to Clonakilty
West Cork, Ireland on the Wild Atlantic Way.
Clonakilty is a multi-award winning, cosmopolitan and friendly seaside town at the heart of West Cork, in the South of Ireland.
Best Town in Europe 2017
Let Your experience Begin
News & events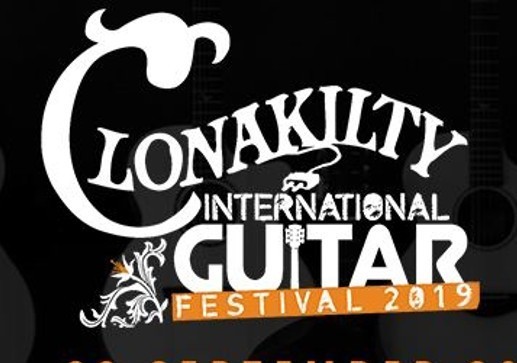 Clonakilty International Guitar Festival 2019
Sep 16 2019
From the Mon 16th – Sun 22 September 2019 some of the world's greatest guitarists will descend on this small seaside town in the southwest of Ireland.
Read more
Clonakilty Vouchers
Upcoming events
Songs & Memories of Makem & Clancy featuring Dan O'Sullivan
Clonakilty Distillery Gin Master Class
An expert guide will teach them all about the Gin making process from selecting their own unique recipe using specially picked botanicals, to the actual distilling of your own bottle of Gin, using one of the gorgeous mini stills. The Gin School runs every Saturday from 6pm. The school is equipped for groups of up 12 people. Book online now via our website www.clonakiltydistillery.ie/ or phone 023 8878020.
Traditional Irish Session
Featuring:
Dennis Noonan on Bodhrán & bones sings in a uniquely laid back style, drawing material from his native Dublin as well as Ulster & Scotland. The late Frank Harte would have thrilled at his deliveries of some of the more humourous and bawdy ballads.
Tommy Madden can lay claim to a lifetimes experience playing across the USA, England & Scotland and at venues all over Ireland, Playing with many legendary musicians. His bewildering knowledge of balladry draws on a wide range of material from Europe, America & Australia covering military, humourous, industrial, rural, urban and romantic songs.
Jerry Lombard served his time with some of the greatest musicians ever to play in Ireland, England and America. He has a seemingly endless repertoire of tunes and an equally extensive collection of tales and yarns to entertain one and all. Jerry's lively playing style matches his attitude to life, music and the Craic.
Ciaran O Connel the driving force on the banjo
Musicians and music lovers travel from far and wide to these sessions and as such this core crew often encourage guest musicians to take part in the proceedings.
Food Safety HACCP Training Level 3
HACCP 3 certification is a must for managers and retailers that work in food catering, retail and manufacturing businesses. This course is provided and certified by Mary Wilcox Consultancy and is recognised by the Environmental Health Officers of the HSE.
Attendees of this course will be trained in all the skills that need to be demonstrated by managers and supervisors in food businesses. Managers and supervisors are those responsible for the supervision and/or influencing the behaviour of any number of staff in respect of food safety. People in this role can be owners, managers, floor supervisors.
Morning refreshments are provided.
PUBLIC TALK @Twig-Refill Fri Sept 27th at 7.30pm
Cillian engages, entertains and holds his audience captive while cleverly educating us all in the simplest way to encourage us to work together to bring about the necessary changes we all need to make, without overwhelming us....
Tickets €10
Available at The Olive Branch Healthfood Emporium
Call 023 88 35711
087 1268643 to book a place
All proceeds to our next tree-planting adventure
Trad Music Session with the Local Lads
Dr. Feelgood and the Electric Mayhem