Welcome to Clonakilty
West Cork, Ireland on the Wild Atlantic Way.
Clonakilty is a multi-award winning, cosmopolitan and friendly seaside town at the heart of West Cork, in the South of Ireland.
Best Town in Europe 2017
Let Your experience Begin
News & events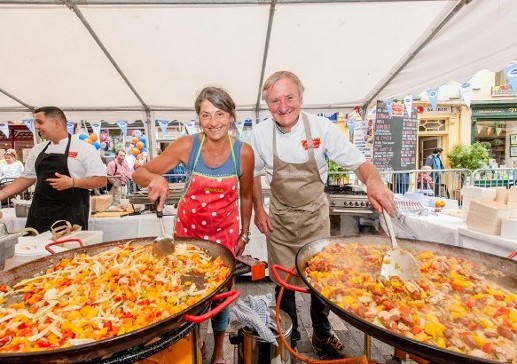 Fourth annual Clonakilty Street Carnival launches with a Maritime Theme
Jun 15 2019
The fourth annual Clonakilty Street Carnival has been announced to take place on Saturday June 15th with a maritime theme to celebrate Clonakilty by the Sea
Read more
Clonakilty Vouchers
Upcoming events
This is Nicholas - Living with Autism
Places are limited so please to avoid disappointment ring the Park Cinema on 023 8834141 and book your ticket. It is PG rating. Nicolas will be there and will answer questions after the screening. He was recently interviewed on the Late Late show and clip enclosed.
https://www.youtube.com/watch?v=6kZAYnORRjs&t=21s

The Loft Gallery would like to invite you to the opening of Under the Hammer, a silent auction of paintings, drawings and prints by James Waller from 2014-18. Works will be marked with a reserve price. Offers can then be made directly to the gallery. This is a unique opportunity to pick up small studio pieces, including master copies, still lives, figure studies and landscapes. 30 May - 21 June
Better Life Cycle: Clon to Clon Challenge 2019
Two routes will be on offer - 160 km and 75 km - both of which are challenging and scenic. Better Life Cycle is different from typical sportives in that cyclists are grouped together by preferred speed, ensuring that everyone involved can safely complete the event at their own pace, while at the same time providing a more social atmosphere within each group.
Both routes start and finish at the Clonakilty Park Hotel. The longer route heads north out of Clonakilty to Enniskeane, west through Dunmanway and Drimoleague before stopping in Bantry for the first food stop at approx 58km. After leaving Bantry, cyclists will head onto the Mizen Penninsula as far as Toormore, before turning back towards Schull, through Ballydehob and on to Skibbereen for the second food stop at approx 116km. Cyclists will then travel on to Leap where they will turn right along the coast to Glandore, Rosscarbery, Owenahincha and back to Clonakilty along by the sea.
The 75km route heads towards Dunmanway out of Clonakilty, turning left for Skibbereen before entering the town, where the food stop for this route will be. Cyclists will afterwards head back towards Clonakilty, again turning right in Leap on to the coast road to Glandore and on to Rosscarbery, and back to Clonakilty along the N71 road.
You can view the routes in detail at the following links:
160 km: https://ridewithgps.com/routes/27695660
75 km: https://ridewithgps.com/routes/28797654
There is no fee to sign up for the event, though participants must pledge to raising €150 in sponsorship, 100% of which goes directly to improving the services St Joseph's Foundation offers to its users. Sponsor cards will be issued in due course.
Gulfstream skies New paintings by Michael Mc Swiney
Clonakilty Community Arts Centre is delighted to host a collection of new works from local Ardfield artist Michael McSwiney .He is a graduate,
with an Honours Degree in Fine Art from the National College of Art and Design, Dublin
For several years he travelled and worked in many countries such as Denmark,
India and Egypt. In the late nineties Michael returned to live in Ireland where he had several solo
exhibitions and exhibited his work at An t`Oireachtas and Iontas, winning the painting prize in
2000. For a time Michael was based in Oslo, Norway where he regularly exhibited and lectured.
Since moving back to West Cork in 2008, Michael has presented solo exhibitions at Garter Lane
Arts Centre Waterford, Linenhall Art Centre Mayo, Sirius Art Centre Cork, Droichead Art Centre
Drogheda, Source Art Centre Tipperary and Draoicht Art Centre Dublin. He is represented in
collections in Ireland, Europe and Internationally. Opening is at 6.30pm on 1st June and the exhibition continues till the 30th. All are welcome
Tradional Session with the Local Lads