Welcome to Clonakilty
West Cork, Ireland on the Wild Atlantic Way.
Clonakilty is a multi-award winning, cosmopolitan and friendly seaside town at the heart of West Cork, in the South of Ireland.
Best Town in Europe 2017
Let Your experience Begin
News & events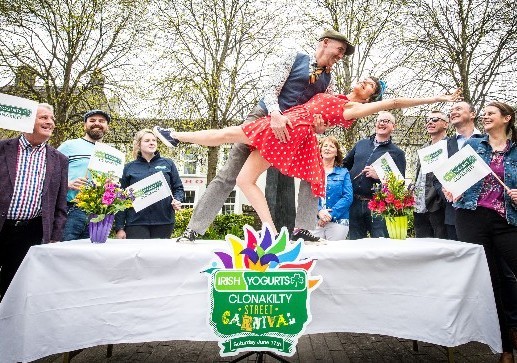 The Irish Yogurts Clonakilty Street Carnival is back!
Jun 17 2023
The Irish Yogurts Clonakilty Street Carnival is back. Read More to buy your online tickets.
Read more
Clonakilty Vouchers
Upcoming events
Irish Yogurts Clonakilty Street Carnival
The colourful main streets of Clonakilty are transformed into a foodie haven of culinary delights, and first-class dining is catered for by local restaurants and an array of excellent artisan producers. The gastronomic day out promises a unique dining experience unlike any other! Rows of tables will line decorated streets to create Clonakilty's longest dinner party, as thousands of diners get to feast on mouthwatering dishes from street food stalls by the town's top restaurants.
Headline acts throughout the day will keep audiences dazzled with live music, activities, and dizzying carnival style antics. The popular Family Fun Zone will return with hosted activities and street entertainment including bouncy castles, giant games, face-painting, and an enclosed area to keep the smallies amused, as well as a sensory play area.
The Carnival is delighted to announce Irish Yogurts Clonakilty as their main sponsor of this year's event, an award-winning family-run company based in Clonakilty since 1994. The event will also be officially opened by renowned chef Eunice Power.
The Irish Yogurts Clonakilty Street Carnival dinner tickets include adult and children's meals with meat, seafood, vegetarian and vegan meal options, including drinks and desserts. Meal tickets priced at €18 for adults and €7.50 for children.
All other festivities and event activities are FREE and accessible to all throughout the day as the town will be fully pedestrianised from 9am-6pm and open for business.
To book tickets please go to Book Tickets
South of Ireland Band Championships 2023
Clonakilty will celebrate its annual Bands Day with the 42nd South of Ireland Band Championships on Saturday, July 1st 2023.
Once again we look forward to welcoming you all to an occasion which will be as successful and enjoyable as in the past. Each year the recitals on the streets are warmly received and with your kind co-operation we hope to follow the same format again this year.
As we expect many visitors to town on that weekend it is important that bands staying overnight should book accommodation without delay.
'Fair Days', Outdoor Concerts of Contemporary Folk
Set in 30 acres of West Cork hills, 'Fair Days' is a one-day festival of contemporary folk music. Restaurant, bar, coffee shop, food hatch. 8.30pm Kíla 7.00pm Katie Phelan 5.30pm Mark Geary 4.00pm Éadaoin 3.00pm Gamelan Spréacha Geala Restaurant 12-4pm (086 826 3429) Bar 2-10pm Coffee Shop 2-9pm Performances 3-10pm Food Hatch 5-8pm