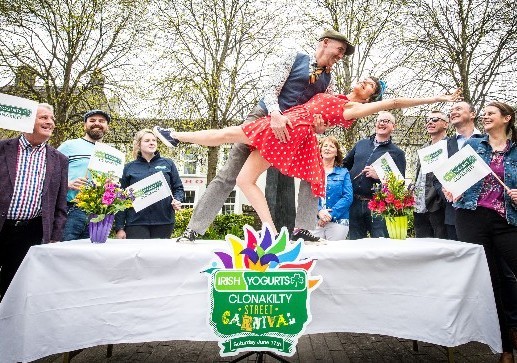 West Cork's annual Irish Yogurts Clonakilty Street Carnival returns to Clonakilty on Saturday 17 th June 2023.
The colourful main streets of Clonakilty are transformed into a foodie haven of culinary delights, and first-class dining is catered for by local restaurants and an array of excellent artisan producers. The gastronomic day out promises a unique dining experience unlike any other! Rows of tables will line decorated streets to create Clonakilty's longest dinner party, as thousands of diners get to feast on mouthwatering dishes from street food stalls by the town's top restaurants.
Headline acts throughout the day will keep audiences dazzled with live music, activities, and dizzying carnival style antics. The popular Family Fun Zone will return with hosted activities and street entertainment including bouncy castles, giant games, face-painting, and an enclosed area to keep the smallies amused, as well as a sensory play area.
The Carnival is delighted to announce Irish Yogurts Clonakilty as their main sponsor of this year's event, an award-winning family-run company based in Clonakilty since 1994. The event will also be officially opened by renowned chef Eunice Power.
The Irish Yogurts Clonakilty Street Carnival dinner tickets include adult and children's meals with meat, seafood, vegetarian and vegan meal options, including drinks and desserts. Meal tickets priced at €18 for adults and €7.50 for children.
All other festivities and event activities are FREE and accessible to all throughout the day as the town will be fully pedestrianised from 9am-6pm and open for business.
To book tickets please go to Book Tickets
Booking fee applies.
Full details of the event day to follow.
Dancers Paul Hogan and Mae Kiely add some jazz to their step as they celebrate the return of the 'Irish Yogurts Clonakilty Street Carnival 2023
Photos by Dermot Sullivan
Damhsa Iarthar Chorcaí (Clonakilty Swing Dance)
Read More