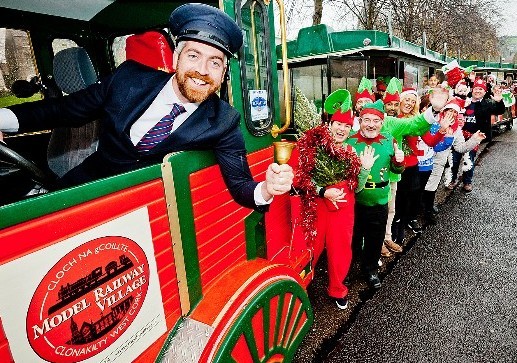 Clonakilty Chamber of Commerce and the Model Railway Village have again launched the Clonakilty Christmas Express for the 14th, 15th & 16th December, with the magical train journey as the highlight of the town's festivities.
Councillor Christopher O'Sullivan, Chairperson for Clonakilty Chamber of Commerce said that the whole community were already getting into the Christmas spirit and looking forward to another magical weekend. "Have you ever been on a train that only runs on Christmas carols? This Christmas we are inviting everyone to visit our town and take a magical train journey on the Clonakilty Christmas Express."
Visitors will again meet Mr Potts the friendly train Conductor and have their free train tickets stamped. On a journey through the streets of Clonakilty some of Santa's elves will also be on board the train singing Christmas songs along the way.
For the final part of the journey, the Clonakilty Christmas Express will stop off at the North Pole Cottage at the Elf Village where Mrs Claus herself will tell stories of Christmas Long Ago. Santa's elves will be on hand to show Santa's workshop with loads of little treats for our Christmas visitors. The nights end with a Christmas dance on Christmas Square under the Magic Chestnut Tree.
The festive celebrations will be courtesy of Clonakilty Chamber of Commerce and the Model Railway Village.
Follow the Christmas magic in Clonakilty on Clonakilty Christmas Express Facebook Page