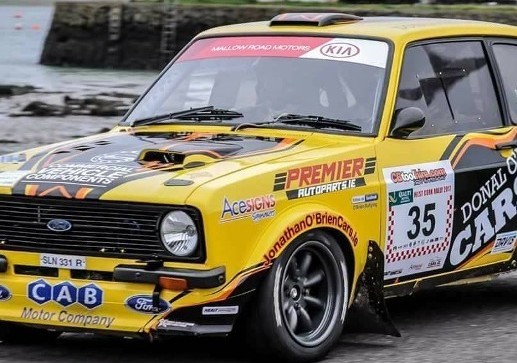 For 2018, the West Cork Rally will be:
•Round 1 of the Dance to Tipperary Irish Tarmac Rally Championship.
•Round 2 of the Dance to Tipperary Irish Historic Tarmac Rally Championship.
•Round 1 of the Plasticbags Southern 4 Rally Championship.
•Round 1 of the FIA European Rally Trophy Celtic Cup.
The rally will take place on the 17 & 18th March 2018 and will again be based in Clonakilty.
Donagh Kelly has committed to competing in this year's rally, as he attempts to win his fifth West Cork Rally in a row!
Donagh has won the rally for the last 4 years in his Ford Focus WRC 08, making him the most successful driver, and his Focus WRC 08 the most successful car in the history of the event. He has won twice with Conor Foley co-driving and twice with Kevin Flanagan co-driving.
This year he will return with his all conquering Focus WRC and Conor Foley will be on the pacenotes as they tackle the West Cork stages, which Donagh loves competing on.
In 2016 Garry Jennings came to West Cork in his Subaru Impreza S12B WRC determined to stop Donagh achieving 3 wins in a row. However Garry's challenge never materialized as he couldn't match the flying Focus WRC on the weekend and eventually finished 3rd.
With his previous success on the event, Donagh has become the King of the West Cork Rally and it will take a real challenge to take his crown. Who is capable of challenging Donagh and Conor this year to win the 2018 West Cork Rally???
Follow on Facebook
Website - Rally.ie