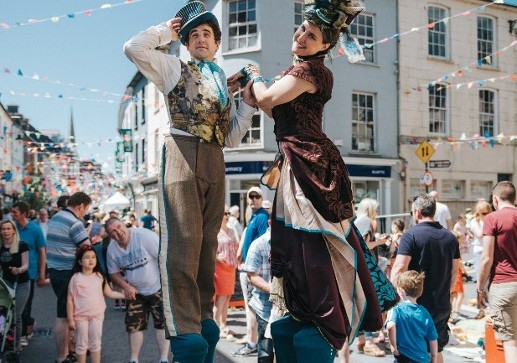 Clonakilty, Ireland. Friday June 2nd 2017. The second annual Clonakilty Street Carnival has been announced in a splash of colour to take place on Saturday June 17th 2017. Excitement is building towards a bigger and more colourful spectacle. All are welcome for a day of free entertainment and fun. Visit www.clonakilty.ie for more information.
Last year, the inaugural Clonakilty Street Carnival was a great success and up to 1,800 people were fed at Ireland's longest dinner party. Even more of the town's top restaurants will serve delicious street food from the best of their menus on Saturday June 17th where tables will be set for carnival fare along the full length of Pearse Street. Food service will commence at 3pm providing 10 euro adult meals and 5 euro children's meals. Up to 2,500 meal tickets are available to purchase for this year's dinner party.
As carnival day comes around again, swathes of multi-coloured bunting are on the way to decorate the streets of Clonakilty creating a backdrop for street performers and buskers; live music; a kids zone with supervised bouncy castles, face painting, magicians, bubbles and popcorn machines (Ashe Street); as well as giant games, ping pong, crazy golf and much more. Clonakilty will be fully pedestrianised from 9am until 9pm.
The first Clonakilty Street Carnival, marked the completion of 18 months of major works in a 12 million euro road resurfacing and drainage project. The greatly enhanced streetscape has since been central to the awarding of Best Town in Europe 2017 to Clonakilty.
Kevin O'Regan, Clonakilty Carnival Committee, highlights how the event exceeded all expectations with businesses, local people and visitors to the town creating a fantastic day, "We are hugely excited to welcome people in great numbers once again to the Clonakilty Street Carnival. The key to our success last year was the exceptionally generous response we received from businesses that supported a concept that had not yet become a reality. This year we aim to reinforce the unique product Clonakilty has to offer by celebrating the town being recently awarded the best town in Europe."
Clonakilty Carnival Schedule
11am - 5pm Family Fun Zone on Ashe Street
12-1pm Live Music by One Voice – Astna Square
1-2pm Brass Band, Astna Square
2.30pm Official Launch and Best Town in Europe Award Ceremony
3pm Street Dinner Party on Pearse Street
3-5pm Arts Festival Entertainment- main stage Pearse Street
Live music outside O'Donovan's Hotel and De Barras, Pearse Street
5-6.30pm Main band - 'She Said'
The town's many businesses and suppliers will add to the day with festive window displays, promotions, special offers and in-store events.